HD capable DSLRs seem to be everywhere these days, with projects ranging from low-budget feature films to primetime network television programs taking advantage of the cameras. They offer HD imaging with cinematic 35mm depth of field in a tiny package at a bargain-basement price. What's not to love?
As an HD DSLR owner myself, I will be talking a lot about these cameras on this blog, but in this post I would like to focus (no pun intended) on that cinematic depth of field. After all, this is really what sets these cameras apart from pretty much any other HD camera even remotely in the same price range.
There seems to be a lot of confusion about the term "full frame sensor".  I would like to try to clarify this concept, specifically in terms of how it relates to what are no doubt the two most popular HD DSLRs, the Canon 5D Mark II and the Canon 7D.
Many people prefer the 5D Mark II to the 7D because of its full frame sensor, but just what does that mean? It means that the sensor is the same size as a full frame of 35mm film, right? Well, yes and no. It's important to understand the difference between 35mm still film and 35mm motion picture film. The full frame that is referred to in this case is a frame of 35mm still film, which is not the same size as a frame of 35mm motion picture film. Take a look at the image below: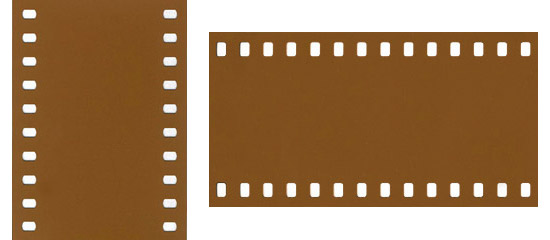 On the left is some 35mm motion picture film, and on the right is some 35mm still film. They do look pretty similar, and they are both 35mm from edge to edge, but they are not the same. For instance, you may notice that the sprocket holes are shaped differently. And there is another difference that should be clear to you right off the bat, and that should make sense when you compare the respective shapes of the cameras they are designed for: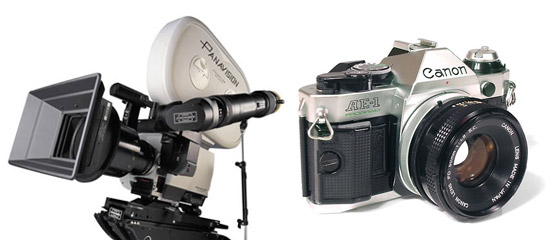 That is, the motion picture film is vertical, and the still film is horizontal. This means that in the case of the motion picture film, 35mm refers to the width of the film, and in stills world it refers to the height of the film. In the image below, you can see the relative size of a full frame of 35mm still film and the size of the 5D Mark II's HD frame.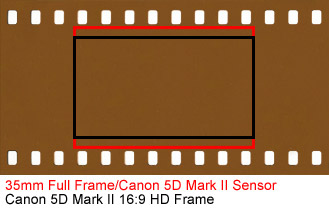 And just how big is a frame of 35mm motion picture film? That's a little bit harder to say. Many different size frames are used for various aspect ratios and release formats, as you can see from the image below. While the Canon 7D's HD frame size might not match any one of them exactly, you can see that it comes close enough to any number of them to be called a 35mm motion picture or Super 35 sized sensor.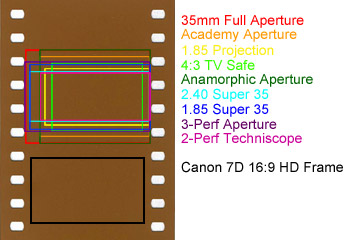 Most people working with these cameras understand that the depth of field of a given format is inversely proportional to the size of the imager (film frame or digital sensor) used to record it. In other words, the bigger the sensor, the less (or shallower) the depth of field, and the smaller the sensor, the greater the depth of field. (I will explain why this is in a future post, as this is another often-misunderstood concept.) Traditionally, digital video cameras have had very small sensors, which meant video images with seemingly infinite depth of field -- everything seemed to be in focus. HD DSLRs have finally brought large sensors, and with them cinematic depth of field, to users who can't afford to shoot their projects on 35mm film.
But which of these cameras have "35mm depth of field"? Well, it depends if you are referring to 35mm motion picture depth of field or 35mm stills depth of field. As shown in the diagrams above, the 5D Mark II, with its much larger "full frame sensor" has much shallower depth of field than the 7D, but it is not the depth of field you are used to seeing in movies shot on 35mm film -- it is, in fact, much shallower than that. There actually is a motion picture format that is shot on horizontal 35mm film. It's called VistaVision, and was used in the 1950s and '60s. It is occasionally still used for effects work, and the cameras look like this: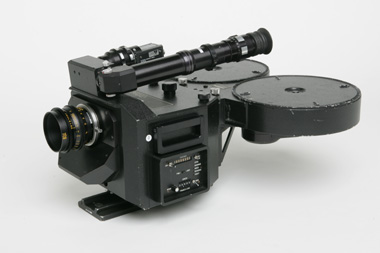 However, back when VistaVision was used to shoot entire movies, super-shallow depth of field was not really the primary goal, as you can see from this frame of a famous scene from the VistaVision film "North by Northwest":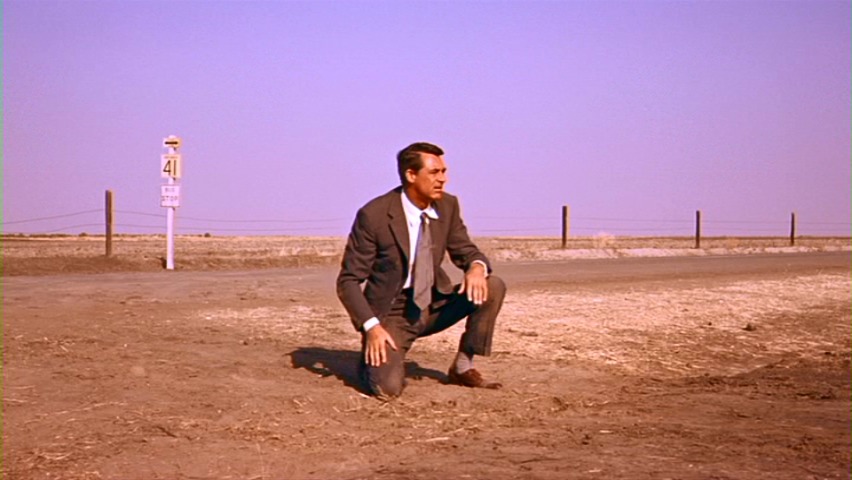 For more examples of the deep-focus VistaVision photography on that film, click here. The shallow depth of field craze came about much later, I think partly as a reaction to the deep depth of field that has come to be associated with the look of video. In any case, while there are plenty of movies shot on film that do use shallow depth of field to excellent effect, none of them were shot with a frame size anywhere close to the size of the 5D Mark II's "full frame" sensor. They were in fact shot with a frame size very close to that of the 7D's "Super 35" size sensor.
Does that make one camera or the other better for filmmaking purposes? Not necessarily. It is, of course, subjective, and many people do prefer the super-shallow depth of field of the 5D Mark II. However, the 5D Mark II does have a very specific unique look to it, and when I see something shot on that camera, I know right away. There's nothing else it could have been shot on. I feel the 7D, with it's Super 35 depth of field, looks much closer to the images we are used to seeing at the theater. I think that well-shot 7D footage can more easily be mistaken for footage that was shot on 35mm, the Red One, or other Super 35 digital cinema cameras. For that reason, for most projects that simply want to emulate the look of film for very little money, I do tend to prefer the 7D over the 5D Mark II. I suspect that some of the bigger budget projects that are using the 5D Mark II, like "House," are not using it for that reason, but rather to take advantage of the unique look of that camera's super-shallow depth of field, and in that case, the 5D Mark II is definitely the way to go.